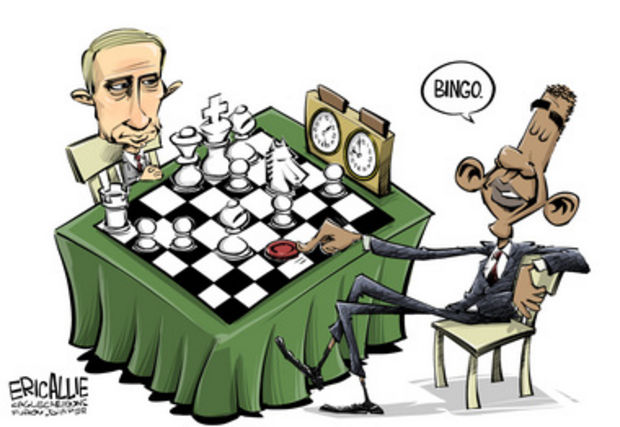 Russia Leaks NSA Documents Proving 9/11 Was An Inside Job
"This 9/11 data dump is so radioactive the US Government will likely collapse.  The world will never be the same when nations everywhere see this report!" 
~ Veteran 9/11 Investigator
Is this the Nuclear Blast Hole beneath a WTC Tower that Dimitri Khalizov reported would result from a 150 KiloTon Bomb underground nuclear explosion?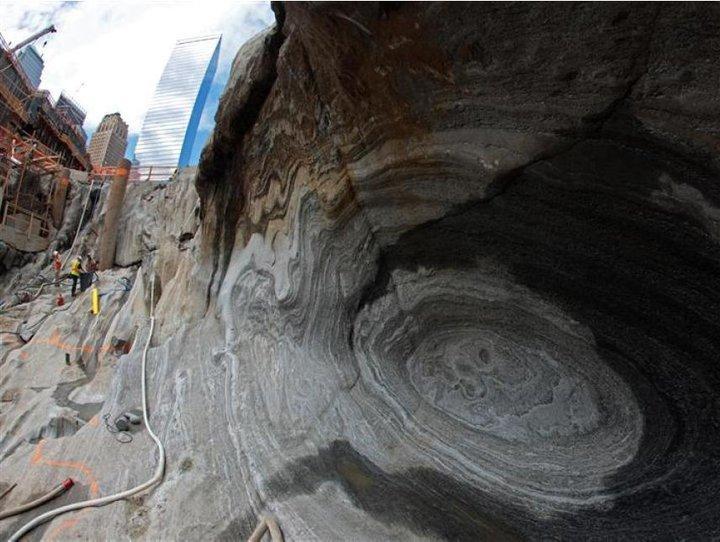 The evidence is now clear and indisputable that the false flag operation carried out on September 11, 2001 was a multi-nation conspiracy.
The USA, Israel, Saudi Arabia and UK have each been proven to be directly involved with the execution and coverup of this crime against humanity.
The bullet points in this linked article were extracted from one of the most earth-shaking interviews ever conducted on radio.  This truly extraordinary interview took place among a group of 9/11 Truth seekers whose collective knowledge base, deep/broad experience set and access to insider information qualified them "to blow the lid off " the US Government-coordinated conspiracy to commit high treason, mass murder, grand theft and premeditated acts of state-sponsored terrorism.
Here is the YouTube video of this unprecedented interview.  See below for highlights of the bulletized transcription of many of the key points concerning 9/11 Truth that were discussed.  Timestamps to the video are included for ease of referencing.
Veterans Today Radio Interview on 9-22-14 With Gordon Duff, Jim Fetzer, Preston James And Stew Webb (full interview)


Huge caverns of "melted granite" were found below the foundations of the Twin Towers.  Were they caused by thermo-nuclear explosions detonated to obliterate the steel reinforced, cast concrete, tubular core structure of WTC Buildings 1 & 2?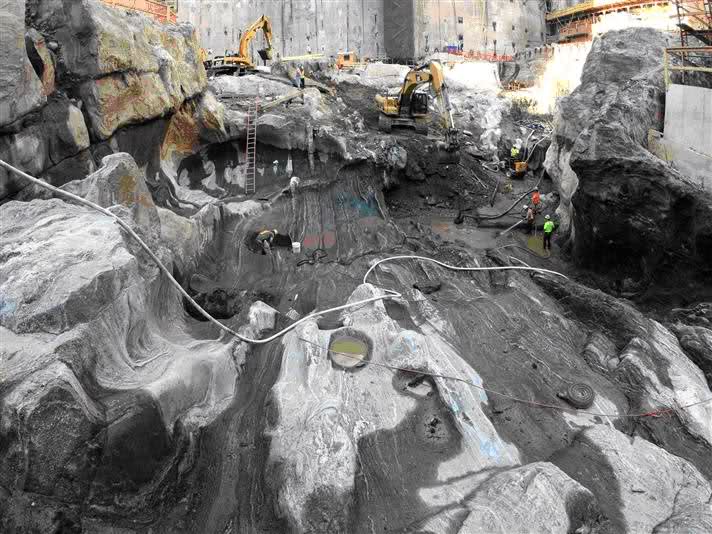 Highlights of the Bullet Points from the Interview
World trade center destroyed by nuclear weapons.  Documents in hand prove source of materials for these weapons.  (Author's [end]note:  …it is quite likely that in addition to the micro-thermonuclear explosives, super-nanothermite and directed energy weapons were also utilized…. ~ Michael Thomas.)
40:01   Real Able Danger established after Oklahoma City bombing, to investigate a group that included a rogue organization within the CIA, Israeli, and Saudi Intelligence.  Able Danger pre-report lists CIA [part of Able Danger investigation], The Mossad, and Saudi Intelligence, were operating in the USA as terror cells who called themselves by a code name = Al Qaeda.
44:00   Gordon Duff pulls up report Russians sent to him that lists people who planned destruction of the World Trade Center in NYC.  9/11 attacks were partially done as nuclear blackmail, and also to stop Able Danger investigating theft of over $200 trillion and 350 nuclear warheads.  Gordon has documents from the Russian government regarding Able Danger.
48:46   Speaking from lists they have stating the first Director of Homeland Security was listed as the head of Al Qaeda [insinuated to be Michael Chertoff]; the real Osama Bin Laden, assisted by US Attorney who had handled all 9/11 investigations.
53:17   Osama Bin Laden was a phantom enemy created to mask the real enemy, and only enemy, the Director of Homeland Security.  It turned out to be a horrible mistake that the USA hand fed weapons into al-Nusra ISIL, after code naming them Al Qaeda; that they burned up the name Al Qaeda.  That was a good boogey man name to use.  The real Osama Bin Laden, and head of Al Qaeda, was the Director of Homeland Security, and that's 'who' ran Al Qaeda, with the help of a US Attorney [involved in the investigation], and head of Canadian distilling family — very well known and the wealthiest family in Canada, with the help of the Mayor of NYC, a NYC Police Commissioner, were involved in planning 9/11 according to these documents, the then President of South Africa, and the Prime Minister of Israel, the names go on, including a prominent White House Counter-Terrorism official [unnamed].
55:34   On 9/11 the destroyed Pentagon offices contained a small G2 Unit [US Army G2 Branch Responsible for Intelligence and Security]; a highly classified Criminal Investigation Service.  The part of the Pentagon that was hit was the site of the Able Danger offices.  They were investigating missing nuclear weapons.  This group under JPS UDP command, for those of you who work in government; that's 35 out of 50 key investigators from Able Danger were killed in that attack.  They were called into the office where the missile struck for an emergency general staff meeting that was running late, [the very same plot ran on television shows including the show "Homeland"].
1:07:52  "BIG PICTURE" – Dr. James Fetzer and Dr. Preston James question Gordon Duff who confirms the accuracy of what Stew Webb says: 1:08:35   The Israelis are behind ISIL/ISIS, and attempting to take over all the oil in the Middle East.  They're trying to control the production of the oil in Iran, Saudi Arabia, Kuwait, Iraq, and Syria.  They dropped oil prices $8-10 per barrel in the past 6 weeks.  They are forcing oil prices down, which they are manipulating daily, and will force down again by another $5-8 a barrel.  They are trying to control Russia's production (Yukos Oil) [by remote].  They plan on squeezing out Russia, eventually Saudi Arabia, and Iran in particular, in order to run their economies.
1:11:52   List of an alleged 125 casualties at the Pentagon, exclusive of the 'plane crash' victims, 36 of them were financial analysts, accountants, budget experts, suggesting Rumsfeld had used the occasion to mention $2.3 trillion missing from the budget, to get them all together in the West Block offices of the Pentagon, with their documents and records, to take them out. REVELATION:  The records could not have been destroyed because they were using dumb terminals to connect to it.  Catherine Austin Fits, HUD Secretary found this, creating the distinct possibility of an existing back up of all the relevant records.
1:18:49   They did that and made a $7 billion payday, and after that they put in place organizations.  They took a primary 9/11 plotter and put him in charge of the Department of Homeland Security where all investigations could be quashed immediately.  All of the criminal cases tied to 9/11 went to a US Attorney who was involved in 9/11 planning.  The most powerful lobbying groups in Washington and think tanks were all involved in planning 9/11.
1:28:55   Code words in this broadcast for intelligence people to know this is factual.
Smoothed granite from thermo-nuclear detonation in the WTC foundation.  Image source:  Khalezov, Dmitri. "911thology"