Bevan Cooney Flips on Hunter ~ Releases 26,000 Emails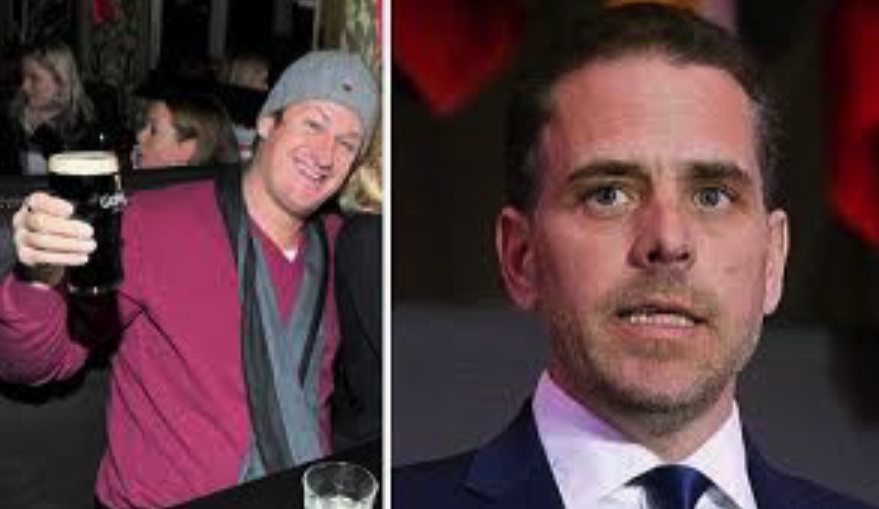 Exclusive — Bevan Cooney Emails Reveal Hunter Biden's Associates Helped Communist-Aligned Chinese Elites Secure White House Meetings
Source ~ Breitbart ~ by Peter Schweizer and Seamus Bruner ~ Oct 16, 2020
Newly obtained emails from a Hunter Biden business partner lay out in detail how the Vice President's son and his colleagues used their access to the Obama-Biden administration to arrange private meetings for potential foreign clients and investors at the highest levels in the White House. These never-before-revealed emails outline how a delegation of Chinese investors and Communist Party officials managed to secure a private, off-the-books meeting with then-Vice President Joe Biden.
These emails are completely unconnected to the Hunter Biden emails being released by the New York Post. [However, some of these will corroborate some of those.]
These and more explosive never-before-revealed emails were provided to Schweizer by Bevan Cooney, a one-time Hunter Biden and Devon Archer business associate. Cooney is currently in prison [recently moved to another prison for his own safety] serving a sentence for his involvement in a 2016 bond fraud investment scheme [that stole funds from Native Americans].
In 2019, Cooney reached out to Schweizer after becoming familiar with the revelations in his 2018 book Secret Empires. Cooney explained that he believes he was the "fall guy" for the fraud scheme and that Devon Archer and Hunter Biden had avoided responsibility.
Archer, who was also convicted in the case, saw a federal judge vacate his conviction. But an appellate court overturned the lower court judge's ruling, reinstating Archer's conviction in the case. Archer, Hunter Biden's longtime business partner, awaits sentencing.
Cooney, their associate who is currently serving a prison sentence on his conviction in the matter, later reestablished contact with Schweizer through investigative journalist Matthew Tyrmand. From prison, Cooney provided Schweizer with written authorization, his email account name, and password to his Gmail account to retrieve these emails. He authorized, in writing, the publication of these emails— notable because it is the first time a close associate has publicly confirmed Hunter's trading on his father's influence.
The emails offer a unique window into just how the Biden universe conducted business during the Obama-Biden Administration. These associates sought to trade on Hunter Biden's relationship with, and access to, his father and the Obama-Biden White House in order to generate business.
For instance, on November 5, 2011, one of Archer's business contacts forwarded him an email teasing an opportunity to gain "potentially outstanding new clients" by helping to arrange White House meetings for a group of Chinese executives and government officials. The group was the China Entrepreneur Club (CEC) and the delegation included Chinese billionaires, Chinese Communist Party loyalists, and at least one "respected diplomat" from Beijing. Despite its benign name, CEC has been called "a second foreign ministry" for the People's Republic of China—a communist government that closely controls most businesses in its country. CEC was established in 2006 by a group of businessmen and Chinese government diplomats.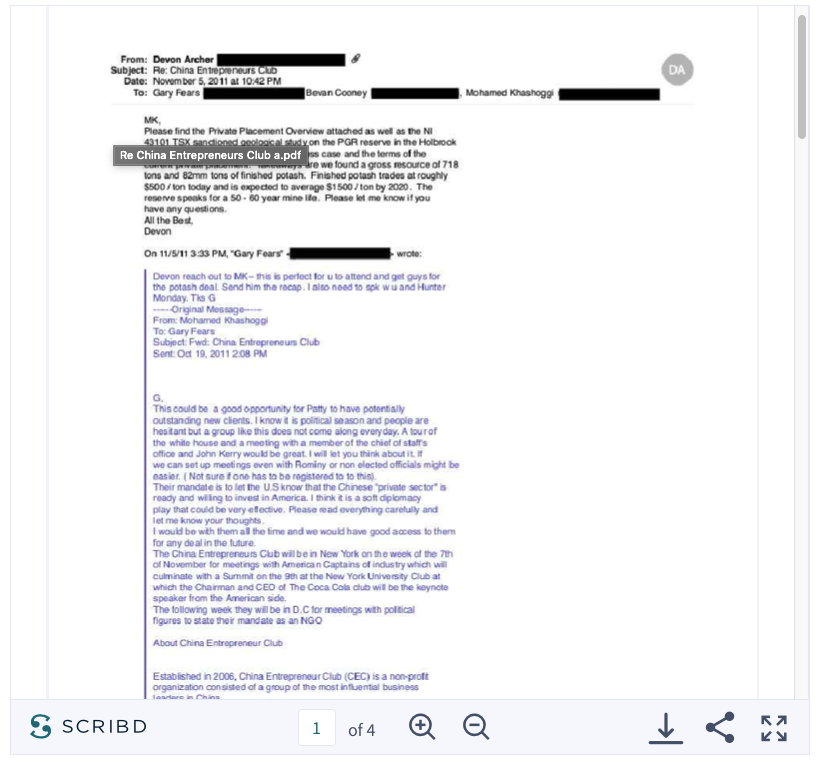 View Re China's Entrepreneur Club a.pdf on Scribd

Peter Schweizer has published many emails at Breitbart so you can read them yourself. Here is the Breitbart account on Scribd.
Listen to Peter Schweizer on Breitbart News Oct 17, 2020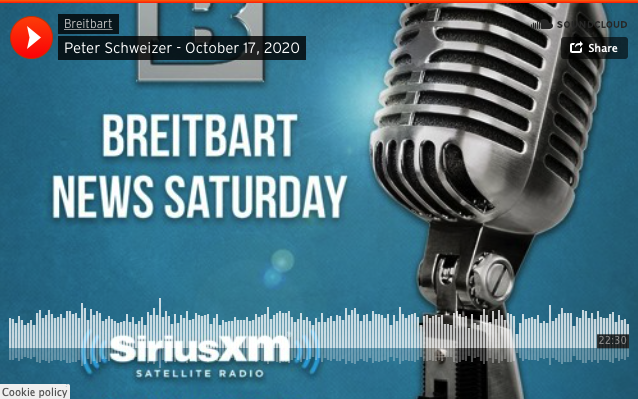 ---
Schweizer: Emails demonstrate Hunter Biden's role as "pipeline to the administration"
Global Accountability Institute President and best-selling author Peter Schweizer joins Glenn Beck on his program to discuss flipped Hunter Biden partner Bevan Cooney giving Schweizer access to his emails, exposing information about deals in China and Russia and Hunter Biden's importance because of his access to the White House.
---
Hunter Biden's Former Business Partner Bevan Cooney Provides New Emails Verifying VP Biden Meeting
---
Former Hunter Biden Associate in Fear for His Life – Bevan Cooney Moved to More Dangerous Facility, Placed in Solitary Confinement
"It seems like someone doesn't want him to talk."
---
Bevan Cooney: Hunter Biden's Ex-Business Partner Went to Prison for Fraud
Bevan Cooney is a former business partner of Hunter Biden who is serving prison time for his involvement in a 2016 bond fraud investment scheme.
Cooney, who had a one-time stint working with Biden and his business partner Devon Archer, recently leaked emails revealing the vice president's son and colleagues used Obama-Biden administration connections to "arrange private meetings for potential foreign clients at the highest levels in the White House," Breitbart reported.