Exclusive Interview:  Biden Family Business Associate Tony Bobulinski Says Joe Lied
Fox News ~ Oct 27, 2020
Bobulinski Met with Joe Biden, Hunter Biden, and Jim Biden to Discuss China Deal
Bobulinski went public to clear his name of charges of treason and Russian disinformation.
Before going public, Bobulinski called Rob Walker, Biden family representative, to request a public retraction by Adam Schiff to clear Bobulinski's name of "Russian disinformation" smear.
Rob Walker tried to dissuade Bobulinski from going public, saying "you're going to bury all of us".  (Listen to recorded phone call clip in above interview.)
Hunter Biden texts Bobulinski to say "James's lawyer and 'my Chairman' gave an emphatic NO" (to Bobulinski's demand that proper corporate governance procedures be implemented to manage capital distributions of Oneida Holdings, the holding company that would fund Sinohawk.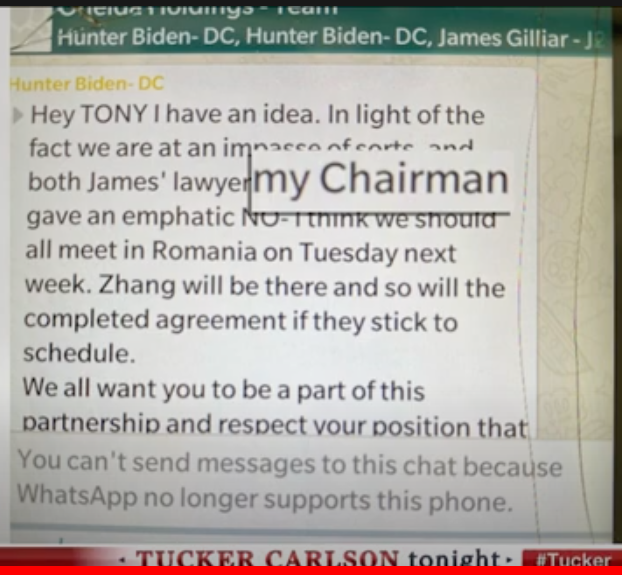 Rob Walker texts Bobulinski to clarify that when Hunter says "my Chairman" he is referring to his dad, Joe Biden.  Joe was the one who vetoed stricter financial controls for Oneida Holdings.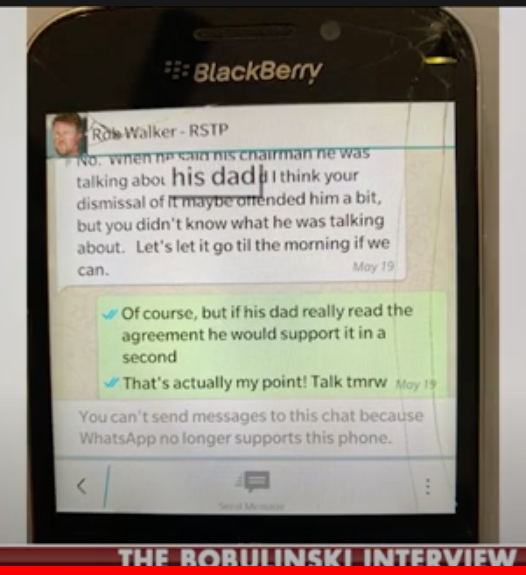 ---
Tucker Carlson Full Interview of Tony Bobulinski on Joe Biden Business Deals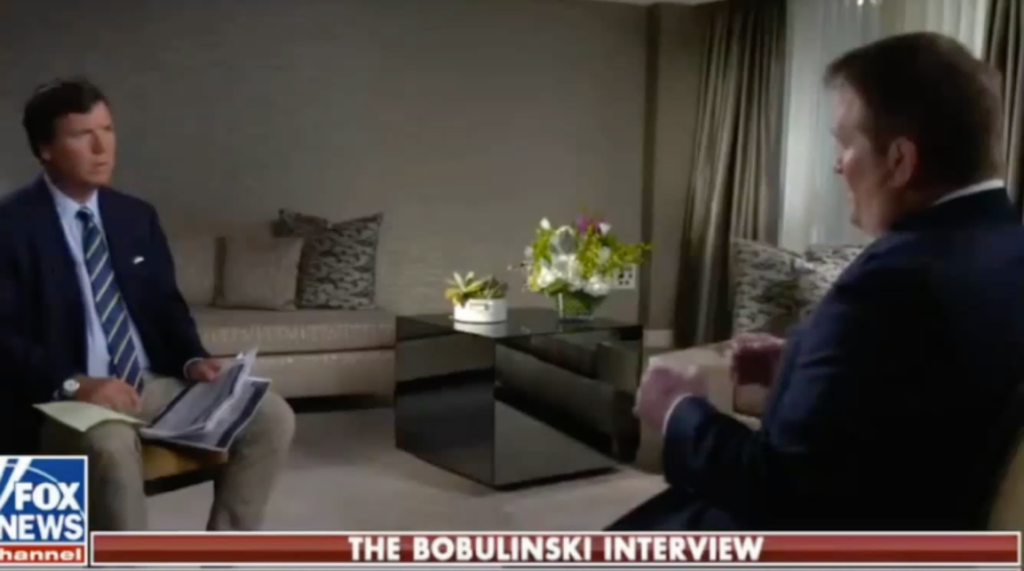 Fox News ~ Oct 27, 2020
For some reason, the full interview has been removed from YouTube.  I originally provided a low-res re-upload on Odysee, and now Fox has provided the hi-res full interview here.
https://odysee.com/@InformedConsent.ie:7/2020-10-13-11-38-40:0
Bobulinski states that during 2015-2016, while Joe Biden was still sitting Vice President of the US, the Biden family was doing extensive work around the world setting up business deals in Oman, Luxemburg, Romania, France, Kazakhstan.
Hunter Biden set up a meeting with Tony Bobulinski in Monaco, then was a no-show-no-call to that meeting while Bobulinski waited two hours, and the next day Hunter texted this excuse for failing to at least send a text saying he wasn't coming: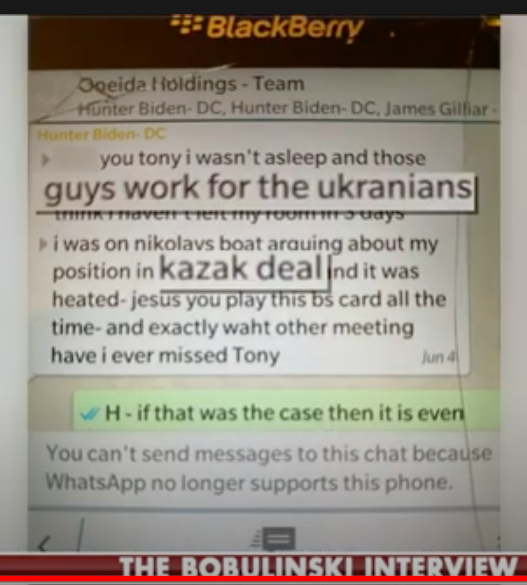 ---
Tony Bobulinski original presser claiming Joe Biden knew about Hunter's business deals
Tony Bobulinski gave this press conference just prior to the final presidential debate on October 22, 2020. Bobulinski had given a deadline of the prior Monday for a public retraction by Adam Schiff of the "Russian disinformation" smear.
---
Biden Business Associate Tony Bobulinski released a public statement on Wednesday evening backing up the reporting of the New York Post from last week
In addition to the above press conference, Bobulinski published a press release on Wednesday evening, Oct 21, 2020.
Bobulinski's statement also seemingly authenticates at least one of the bombshell emails obtained by the New York Post, purportedly from Hunter Biden's laptop retrieved from a computer repair store in Delaware. The statement also contradicts claims from some Democrats that a Russian disinformation campaign is at the center of the burgeoning scandal currently engulfing the Biden campaign in the final days of the election.
Read the full statement at Breitbart.
---
Biden Insider Tony Bobulinski Provides Trove of Documents to Senate Investigators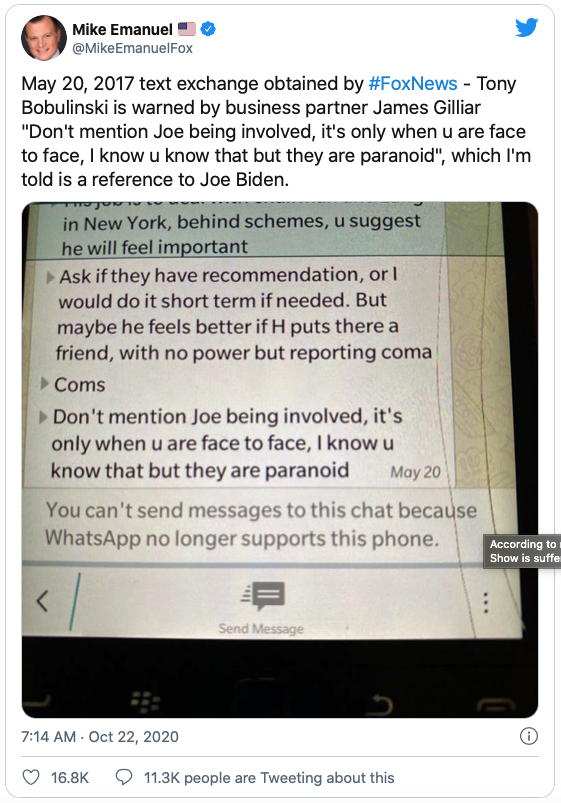 Documents that Bobulinski provided to Senators have begun appearing in public, and have been obtained by a number of media outlets including Breitbart News.
In them, text messages, emails, and other documents illustrate a larger picture of concern regarding the Biden family's operating procedures, and deep connections that Joe Biden himself has to all of this.
"Don't mention Joe being involved, it's only when u are face to face," Biden family associate James Gilliar—the head of J2cR—says in one WhatsApp text message that Bobulinski provided to the Senate committees. "I know u know that but they are paranoid."
« Biden Involved in BenghaziGate and Killing of Seal Team 6 Convicted Biden Associate Bevan Cooney Sings ~ Turns Over 26,000 Emails »