Sidney Powell: "Tons of evidence hundreds of thousands of ballots are going to have to be discarded"
Nov 11, 2020
---
Judge Jeanine Interviews Sidney Powell on Dominion Voting Systems Massive Election Fraud
Nov 14, 2020
---
Sidney Powell With Lou Dobbs: Release The Kraken
Nov 14, 2020
"I can hardly wait to put forth all the evidence we have collected on Dominion, starting with the fact it was created to produce altered voting results in Venezuela for Hugo Chavez, and then shipped internationally to manipulate votes for purchase in other countries, including this one. It was funded by money from Venezuela and Cuba, and China has a role in it also, so if you want to talk about foreign election interference, we certainly have it now." 
"I am going to release the Kraken."
---
BREAKING: AG Barr Authorizes Federal Prosecutors to Pursue "Substantial Allegations" of Voting Irregularities Before 2020 Election is Certified
Source: Gateway Pundit ~ Nov 9, 2020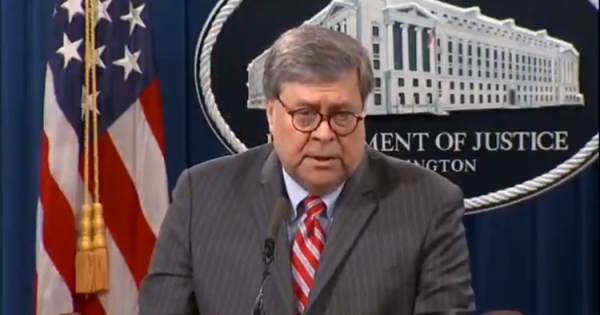 US Attorney General Bill Barr authorized federal prosecutors to pursue "substantial allegations" of voting irregularities before the 2020 presidential election is certified, per the Associated Press.
"In a memo to U.S. attorneys … Barr wrote that investigations 'may be conducted if there are clear and apparently-credible allegations of irregularities that, if true, could potentially impact the outcome of a federal election in an individual State.'"
President Trump's campaign on Monday evening filed a lawsuit in Pennsylvania alleging "creation and implementation of illegal 'two-tiered' voting system for the election."  The Trump campaign is seeking an emergency injunction to stop Pennsylvania officials from certifying Joe Biden's victory.
Poll watchers in Wayne County filed a lawsuit alleging Detroit officials knowingly committed mass voter fraud.
There are other allegations of voter fraud in Nevada, Wisconsin, and Georgia.
Project Veritas has released videos of USPS whistleblowers in Pennsylvanian and Michigan claiming their supervisors told them to backdate ballots.
Another major development tonight:  Real Clear Politics on Monday night pulled their call for Joe Biden in Pennsylvania.
Joe Biden came from a 700,000 vote deficit on Election night and with the help of OVER ONE MILLION NEW VOTES overtook President Donald Trump by Friday!
After illegally stuffing the ballot box with harvesting and midnight ballot dumps, Biden leads Trump in Pennsylvania by approximately 40,000 votes.
---
Dominion Voting Equipment Sends Votes Out of USA for Counting by SmartMatic Software
SmartMatic Software Has Been Used to Steal Elections In Other Countries
Nov 15, 2020
---
Giuliani presents evidence for Trump's legal battle
---
"WE HAVE THE EVIDENCE" Rudy Giuliani Says Dead People Voted Big Time In Election 2020
---
Trump Attorney: Manual Recounts May Be Necessary in 30 States After Software "Glitch" Is Caught Erasing 6,000 Votes for Donald Trump in Just One County
Source: Gateway Pundit ~ Nov 7, 2020
Jay Sekulow, Attorney for President Trump, calls for manual recounts in all jurisdictions that use Dominion Voting Systems machines.
---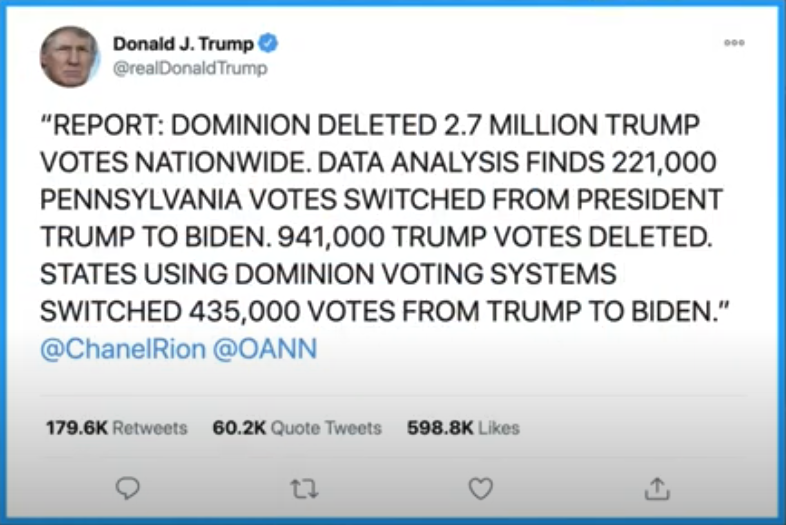 ---
BREAKING: Trump legal team says court could order revote in PA
Nov 12, 2020
---
Chip Roy Calls for Recount, Audit, and Full Review: 'Fewer than 100,000 Votes' Separate Key Swing States
Source:  Breitbart ~ Nov 9, 2020
Rep. Chip Roy (R-TX) joined some of his Republican colleagues in calling for a recount, audit, and full review of the election, stating Monday morning that "fewer than 100,000 votes total" separate former Vice President Joe Biden and President Donald Trump in key swing states.
---
100 Percent Fed Up List of News on Election Fraud, Lawsuits, and Recounts
Robert David Steele's List of Election News Updates ~ Latest News on Top
« Election Fraud Must Be Investigated by Justice Department Election Fraud 2020 ~ National »