BREAKING: Rudy Giuliani Drops Bombshell, Says 'Dominion' Whistleblowers Are Coming Forward
Source: Trending Politics ~ Nov 11, 2020
During an interview on Wednesday with Steve Bannon on War Room, former New York City Mayor Rudy Giuliani dropped a bombshell where he announced that whistleblowers would soon be coming forward about the Dominion election software.
"Thor has the part of it with the government insiders, who basically are turning, let's call it, state's evidence.  They are Democrats who are testifying against a Democratic effort because they were so disgusted."
"Coleman has the community people and he's got the Dominion people," Giuliani said. "And they were the ones who were the actual, not poll watchers, the actual observers who were excluded, who were lied to, two of whom stayed behind after all the Republicans had left out and they're the ones who got the evidence of the 100,000 votes coming in. And they have some photographs also."
---
Rich Barris, Most Accurate Pollster, Rants on Election Night Fraud
Quite Frankly ~ Nov 5, 2020
https://www.youtube.com/watch?v=kxYsLpxSFEI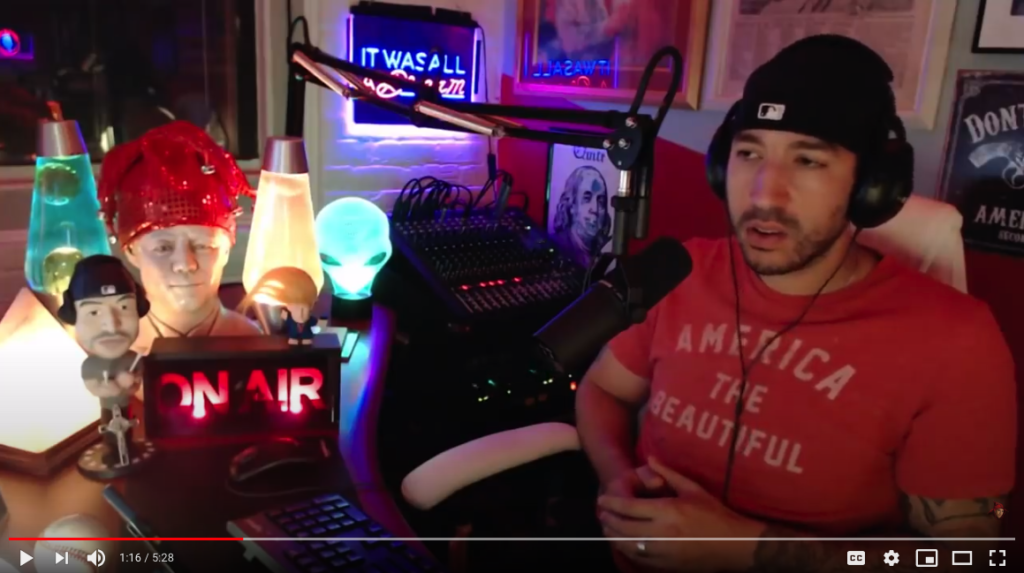 ---
MUST SEE VIDEO: TGP's Joe Hoft on The Steve Bannon War Room Discusses the "Glitches" in Vote Counting in Wisconsin and Battleground States
Source:  Gateway Pundit ~ Nov 10, 2020 ~ Jim Hoft
The Gateway Pundit investigative journalist Joe Hoft was on The War Room with Steve Bannon Tuesday morning at 10 AM Central.
Joe reported on a national study tonight that found millions of votes switched or disappeared — all against President Trump!
This was not an isolated incident.  We are seeing this in the battleground states this year.  
And — in every instance the votes are GOING AGAINST President Donald Trump.
---
BREAKING EXCLUSIVE: Analysis of Election Night Data from All States Shows MILLIONS OF VOTES Either Switched from President Trump to Biden or Were Lost — Using Dominion and Other Systems
Source:  Gateway Pundit ~ Nov 10, 2020
Tonight we have obtained an unaudited analysis of data available for all the states looking for system glitches and other oddities in vote counts related to the Presidential race only.
We next attempted to obtain more data on this issue so we could determine how widespread this issue may be and/or if there are reasonable explanations for what is occurring.
Then tonight we were led to a site on the Internet (https://thedonald.win/p/11Q8O2wesk/happening-calling-every-pede-to-/) where someone who had seen our posts decided to do an analysis himself.  In the piece the author claims his work is a full list of votes switched from Trump to Biden or votes erased by Dominion (the vote machines used in many states across the US).
The author decided to obtain the data himself and perform an analysis of national votes switched from Trump to Biden and votes erased (the total amount of votes counted decreased by that amount throughout the counting).
The author obtained data that has been passed around that was reportedly captured by the New York Times on election night.
By examining the data the author was able to locate an instance where votes were switched from Trump to Biden so he decided to perform an analysis on the entire data set, starting with the states where Dominion voting machines are used.
The author also claims that the data is from Edison Research and it is the same data that is used for election coverage by at least ABC News, CBS News, CNN and NBC News.
It is also used for the website of the NYT, and probably others as well.
Here are the (unaudited) results by state:
The Chart Lists Votes Switched from Trump to Biden and Votes That Were Lost by Trump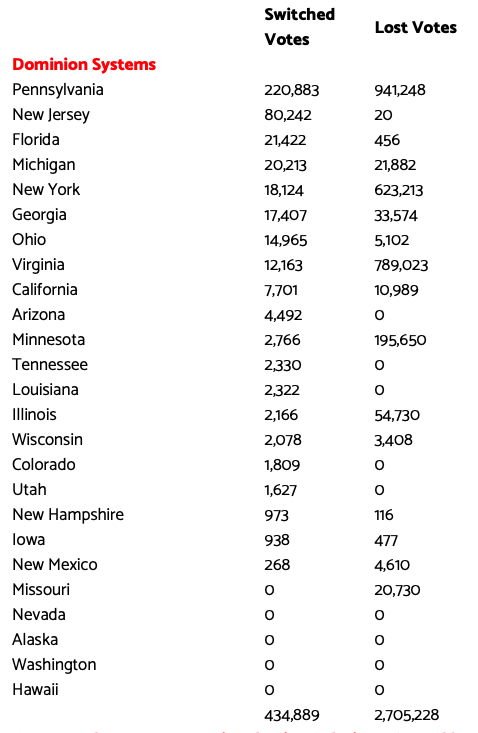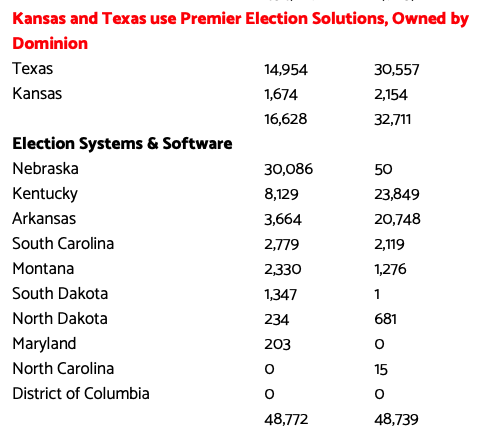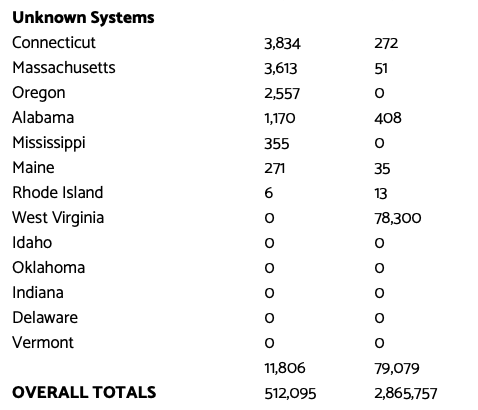 Based on this initial analysis over 500,000 votes were identified that were switched from President Trump to Joe Biden. 
In addition to this another 2,865,757 votes were deleted.
Note that these numbers have not yet been audited by us. 
We also have not performed this exercise by county in these states which could impact the countrywide vote totals even more.  More needs to be done.  But what is clear, there are some very questionable transactions occurring within the voting machines and applications which need to be reviewed further because of apparent material issues in reporting.
More will be exposed.
---
HUGE! Corrupted Software Used in Michigan County that Stole 6,000 Votes from Trump — Is Also Used in ALL SWING STATES — And Uses Chinese Computer Parts In Its Machines
Source: Gateway Pundit ~ Nov 6, 2020
A so-called computer 'glitch' fix in one of Michigan's counties has led to 6,000 votes switching from Joe Biden to President Trump.  The Head of the Republican Party has asked for an additional 47 counties be recounted after the fix since these 47 counties also use the same Dominion software.
Dominion Software is used in 28 US states including ALL OF THE BATTLEGROUND STATES.
---
BREAKING: Top Lawyer Releases Archive of 2020 Fraud Evidence (UPDATED)
Source:  National File ~ Nov 17, 2020
Legal crusader Robert Barnes publicized HereIsTheEvidence.com, an archive for admissible evidence of 2020 election irregularities
Famed constitutional, civil rights and tax attorney Robert Barnes tweeted out a link this morning to HereIsTheEvidence.com. It advertises itself as an archive for people to submit and review evidence of "irregularities" in the disputed 2020 election.
The stated purpose [of the website] is to crowd-source evidence to be used in court, presumably by challengers to the 2020 election process.
UPDATE 11/17/2020 9:56AM ET: National File has learned that the archive was started by a group of volunteers who are completely unaffiliated with any campaign or political organization. Barnes tweeted out the link as a gesture of support after they asked him for advice. They are excited and proud that the project has garnered so much attention, but would prefer to remain anonymous for the safety of their families.
---
Complete List of Suspected Fraud Issues in 2020 Election Sorted by State with Recommended Actions on How to Address
Source: Gateway Pundit ~ Nov 8, 2020
Post contains a list of articles to date where potential fraud has been identified in the 2020 election and actions recommended to be taken to address issues known to date. The issues and recommendations are categorized by state with an overall section first identifying all the actions to be taken across the states followed with additional actions to be taken at each specific state.
Overall:
Manually recount any state results where Dominion Vote Machines were used to tally results
Focus on closely contested and swing states
Focus on cities (i.e. Milwaukee, Detroit, Pittsburgh, Philadelphia, Atlanta, Las Vegas, Phoenix, Minneapolis, etc…)
Focus on absentee and mail-in Ballots
Investigate Biden only votes
Identify dead people who voted
Identify felons who voted
Identify illegal aliens who voted
Identify children who voted
Identify individuals who voted more than once
Identify newly registered individuals over 90 years old
Identify non-registered voters and review
Identify who made the call to stop counting in certain states, rationale for doing so and timing of the call
Click here for bulleted lists for nationwide issues and state issues, with hotlinked articles for each item.
« Updates on Election Recounts and Lawsuits Election Fraud 2020 ~ Pennsylvania »