Michigan State Republicans call for Election audit
Nov 18, 2020
---
Elections Security Expert Finds Michigan Presidential Election Completely Fraudulent – He Has Proof
Fox News ~ Lou Dobbs ~ Nov 17, 2020
HUGE! Elections Security Expert Finds Michigan DUMP OF BALLOTS Were Completely Fraudulent — Machines Do Not Have Capability to Count These Ballots in that short of time!
Russ Ramsdale says:
From 225,000 to over 400,000 votes are highly questionable.  This was a mess from top to bottom, and we think there is a stunning amount of fraud buried in this election.  
There are over 3,000 Michigan precincts where the number of votes cast compared to the number of voters estimated by the Secretary of State ranges from 99% all the way up to 350%.  Those kind of numbers don't exist in the real world.
We've gone back and looked at the huge vote dumps, aka "spikes" that were mostly cast in 4 counties, and we looked at how long it takes to cast all those votes and the equipment that exists in those locations, and we don't see any way those votes could have been cast on that equipment in that amount of time.
---
BREAKING: Michigan 'Computer Glitch' Fixed, Switching 6,000 Votes from Biden to President Trump – GOP Demands 47 More Counties Corrected
Source: Gateway Pundit ~ Nov 6, 2020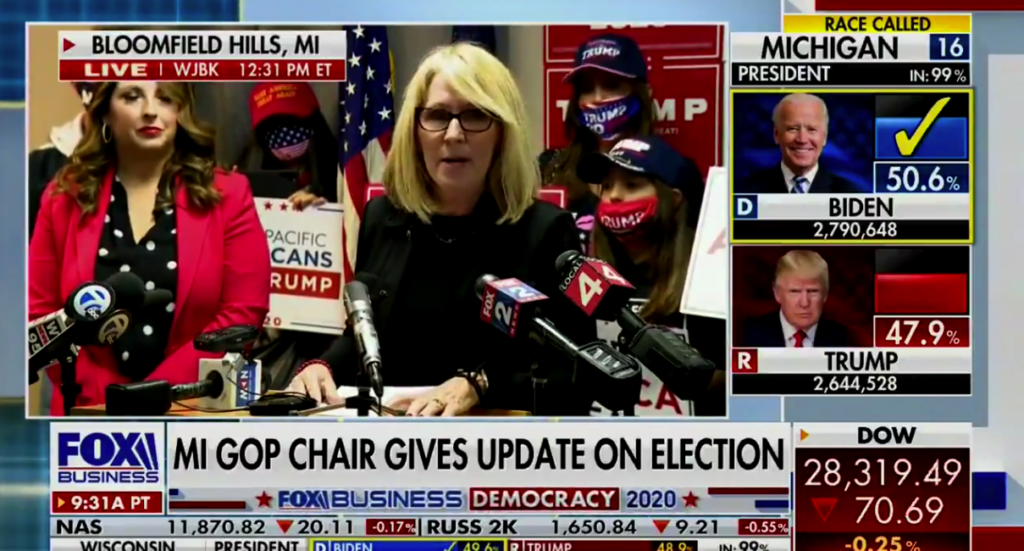 A so-called computer 'glitch' fix in one of Michigan's counties has led to 6,000 votes switching from Joe Biden to President Trump.  The Head of the Republican Party has asked for an additional 47 counties be recounted after the fix.
UPDATE: Michigan's #AntrimCounty flipped to a win for #DonaldTrump after an election-software glitch was fixed today.  Revised totals now show that Trump won by an estimated 2,500 votes.
Michigan's GOP Chairwoman, Laura Cox is calling for 47 other counties in Michigan to "closely examine their results for similar discrepancies."  Note:  if 6,000 votes are changed in each county, this would be over 200,000 votes.
MI County Vote Counting Software Flipped 6000 Trump Votes to Biden ~ 47 other counties used same software
(Click on photo or link below to see video.)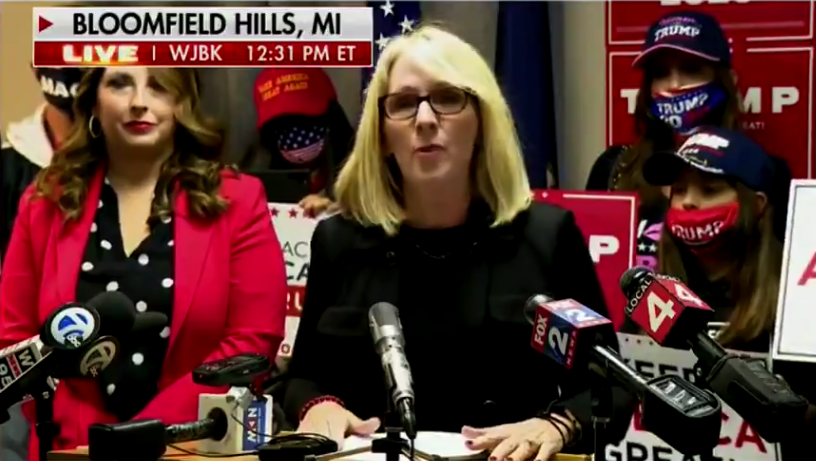 https://odysee.com/@Archives:a/MI-Voting-machines-flipped-6000-Trump-votes-to-Biden:0
---
Sen. Patrick Colbeck: Analyzing The Post Election 2020 Battlefield
Interviewed by Dr Dave Janda, Operation Freedom ~ Nov 21, 2020
Senator Colbeck worked as an election observer, and documented that the vote counting machines were hooked up to the internet, contrary to election security procedures.  He details many other "irregularities".
---
STUNNING TESTIMONY: Michigan Election Observer Shane Trejo Witnessed Drivers Bring in 50 Boxes of "Absentee Ballots" After Midnight Deadline into Detroit TCF Center at 3:30am
Source:  Gateway Pundit ~ Nov 13, 2020
THE MAN WHO SAW THE MICHIGAN STEAL
Shane Trejo witnessed the 3:30am Biden Ballot Drop that gave Michigan from Trump to Biden. The media has called this "unsubstantiated" but Trejo described it to The Gateway Pundit in full detail. 
No media outlet has contacted or spoken with Trejo about this incident. This is part of the constant media suppression and cover up of news about voter fraud around the country.
"There were thousands of ballots in each box," Trejo says. "There were at least 50 boxes that I saw unloaded at 3:30am, well after the 8:00pm deadline for ballots to show up." 
"They should have been dumped on us at once, when there wasn't a potentiality of fraud. There was no reason for them to show up this late at night."
Shane Trejo believes that those were fraudulent votes and that the election was stolen.
The 3:30am Biden Ballot Drop was the first ballot delivery since 10:30pm, then 138,000 ballots showed up suddenly.
Trejo says the ballots could not be processed right when they arrived, so by the time they were starting to be counted, a new shift of poll workers had started.  This is important because Trejo explains that the Biden Ballot Drop was dropped off at the end of one shift and left uncounted, so when the new shift came to count ballots they didn't know where the ballots had come from. 
Trejo repeatedly asked about this truck to site supervisors and was STONEWALLED.
Trejo also connects the Biden Ballot Drop with the ejection of GOP Poll Challengers and covering up of windows at the TCF Center by Detroit election workers. According to Trejo, this was done to prevent anyone from seeing the ballots from the Biden Ballot Drop from being counted, often with missing signatures, and missing envelopes.
The 3:30am Biden Ballot Drop was covered up by ejecting GOP Poll Challengers and by the literal covering up of windows so no one could see the ballot fraud going on.
Trejo took down the license plates and descriptions of all the people involved, and hopes that litigation will reveal this massive voter fraud that stole Michigan from President Trump.
Witnesses say that an announcement was made over the loudspeaker that a new round of ballots had arrived and would be counted, causing poll workers to inexplicably cheer. Another announcement was made around 5:00am that those ballots had been counted.
Trejo claims the media has done zero journalism to investigate his story and claims. "No media outlet seems interested in this story, and whenever I try to share it on social media it gets deleted."
When asked if he has any faith in Detroit's count, Trejo stated:  
"No. I think probably, if we're going to be fair, I mean, I don't see how…you probably have to throw the entire election out, there's been so much fraud. And re-do it if you wanted to have some sort of outcome that you could trust.  I don't think anyone can trust any outcome at this point with this rampant fraud. And, you know, this is an assault on, you know, not just our democracy, but on our constitutional republic itself."
---
MIT PhD Analysis Reveals 138,000 Votes Switched from Trump to Biden in Michigan — MUST SEE VIDEO
Source:  Gateway Pundit ~ Nov 10, 2020
MIT PhD Analysis of Michigan Votes Reveals Unfortunate Truth of U.S. Voting Systems
Dr. SHIVA Ayyadurai, MIT PhD, the Inventor of Email, Scientist, Engineer, shares the results of his team's mathematical analysis of four major counties' votes in Michigan in the Trump-Biden election that reveals an unfortunate truth of U.S. voting systems.  The analysis raises important questions for Election Integrity.
Dr. Shiva and his staff found evidence of Trump-to-Biden vote-switching of 138,000 VOTES in Michigan.
Dr. Shiva also found that the more solid Republican precincts saw more Trump votes switched to Joe Biden.
---
Michigan GOP State Senators Request Full Audit of 2020 Election Before Results Are Certified
Source:  Gateway Pundit ~ Nov 12, 2020
Michigan GOP state senators requested a full audit of the 2020 election, citing "serious allegations" which cannot be ignored.
Michigan lawmakers said "Antrim County's "glitch" caused thousands of Michigan ballots that were meant for some candidates to be wrongly counted for their opposing candidates."
"Antrim is just one of the 47 counties in Michigan that used the software system at issue, Dominion Voting Systems, to process their ballots."
The lawmakers also said there are allegations that election officials critically mishandled numerous ballots including:
Counted ineligible ballots
Counted the same batches of ballots multiple times
Instructed poll workers to backdate absentee ballots
Counted late ballots after illicitly pre-dating them
Used false information to process ballots, such as using false or incorrect birthdays
Duplicated ballots illegally
Counted ballots even though the voter's name did not appear in the official voter rolls
Ordered election workers to not verify voters' signatures on absentee ballots
Barred poll challengers from observing the transposition and certification of absentee ballots that need to be transposed, including military ballots
Coached voters to vote for a particular candidate and party
The Michigan state lawmakers said that each of the allegations are backed up by sworn affidavits of over 100 Michigan citizens.
---
ANALYSIS: 10,000 Dead People Voted in Michigan Using Mail-in Ballots
Source:  National File ~ Nov 11, 2020
About 9,500 voters who were confirmed dead through the Social Security Death Index are marked in Michigan's database as having returned mail-in ballots. Another roughly 2,000 are registered as being 100 years old or more.
The analysis, provided by Richard Baris, the director of the Big Data Poll company, reveals that more than 10,000 people confirmed or suspected dead returned mail-in ballots to vote in Michigan this past election.
The data gleaned from the analysis indicates voter fraud:  that somebody other than the person named on the ballot voted on behalf of these people.
"It's also entirely possible that some of them aren't even real people," Baris told reporters. "If someone is 110 or some ridiculous age, we should have their death record, but do not."
---
Michigan Voter Fraud ~ Whistleblower Postal Worker Reports Backdating Ballots to Nov 3
https://odysee.com/@CitizenJ:9/Michigan-Voter-Fraud:e
Note:  This whistleblower postal worker is in Michigan, different from whistleblower postal worker Richard Hopkins in Pennsylvania.
---
Detroit MI, Voter Fraud is Afoot
BREAKING…Former MI Asst. AG and Detroit Poll Challenger's Sworn Affidavit: Election Worker Assigned New Names To Voters When It Appeared Absentee Ballot Was From Person Who Already Voted
Michigan: Seven voters older than the oldest human being alive today voted in Michigan, including one man born in 1850 and another who passed away in 1984.  Here's video showing the mail-in ballot from deceased William Bradley, born in 1902, was received and counted.
Michigan: Poll workers set up a police barricade and covered the windows of a counting facility, forbidding poll watchers from entering or even being within 30 feet of the building (the Trump Campaign is suing Michigan after access to ballot counting was denied).
« Pennsylvania USPS Whistleblower Election Fraud 2020 ~ Wisconsin »