The Project XIII app for iPhone and iPad was recently released for download in the iTunes app store.
The Project XIII app for Windows Phone 8 was released in August 2013, and a Silverlight version for PC and MAC desktops is expected in late September or early October.
The intention of this program is to offer a completely encrypted replacement for Facebook.  When you make a post available to you and your friends, it really will be available ONLY to you and your friends, and not Facebook admins, tech support, the NSA, FBI, and CIA.  Your data will not even be available to Project XIII admins, so you MUST remember your password.  If you lose it, they have no way of retrieving it for you.  The upside to this is that if the NSA presents them with a "security letter" demanding access to your data, they don't have any data to hand over.  See this page for more detail about Project XIII and the data privacy philosophy.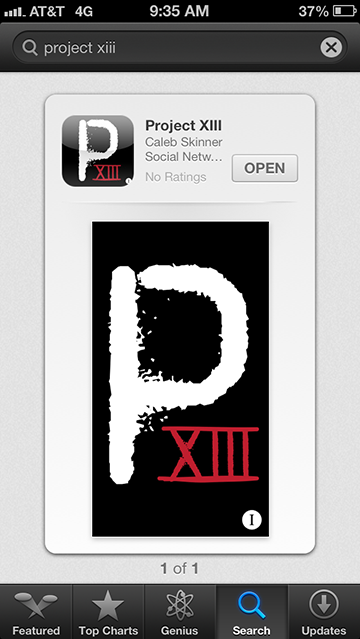 The app is free for 60 days, and 99 cents a month thereafter to cover network expenses and new development.  You will need to tell others your ID to allow them to add you as friends.  But that's just a matter of an email or telephone call.
This first release offers the basics of social networking, including mass posts to friends, private instant messaging, photo sharing, and event scheduling with invitation and RSVP functions.  Groups functionality may already be included — I don't have an iPhone so I haven't seen all the features yet.
Functionality intended for future releases will include VOIP for truly encrypted phone calls, a video-call replacement for Skype, and some sort of exchange for value functionality that will work with a new currency beyond paper money, silver and gold, or Bitcoin, in support of the transition to the economy of the future.
Here is a quick tour of the app by Caleb Skinner, visionary and lead developer.  This demo was done on the Windows Phone.
« Rebels Admit Gas Attack Result of Mishandling Chemical Weapons 9/11 ~ Follow The Money ~ Documentary Names Names »